The optimise must be run in 'Single Mode' which means you need to ensure all users log out of the Controller database to be optimised.
To view users logged in and log users off, select the menu, 'Maintain / User / Manage Active Users'.
Select 'Mark all users' check box to select all users except yourself.
Click the 'Run'
A question will appear – 'The system is not locked for new users. Do you want to continue?', choose 'Yes'
The user status will change to 'Logging off' and then the user will disappear from the list once logged off.
Once all users are logged out of the Controller database you will be able to select the menu, 'Maintain / User / Single Mode'.   This prevents users logging in.
IMPORTANT:   Once the optimise has run, deactivate the 'Single Mode' by re-selecting the menu 'Maintain / User / Single Mode', this will allow users to log back into the database.
To run the optimise.  Select the menu, 'Maintain / Database / Optimise'.
The options are as follows: –
Remove Period Zero Values – Clears 0 values from selected period tables.
Rebuild Structure Tables – Recalculates ownerships, rebuilds structures to give quicker access to data
Rebuild Indexes – Due to the length of time it takes to run this option, it will usually be run as part of a scheduled SQL maintenance plan.  Please check with your   It rebuilds data indexes for faster access to data.
Analyze Schema – This is used for Oracle database only so will be greyed out.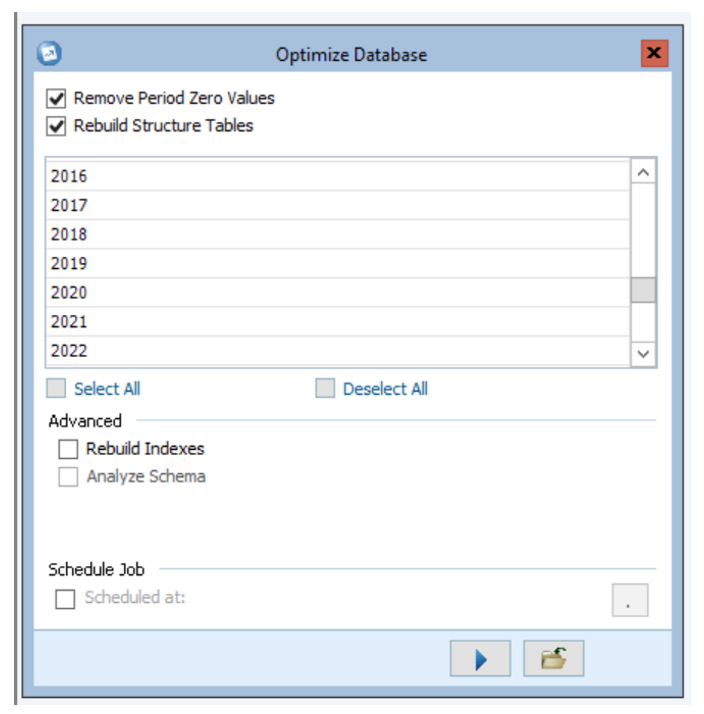 Select the 'Run' button.    A message will appear to confirm that the optimise is complete.
REMEMBER: To de-active the 'Single Mode'.