When trying to connect to a new source via ODBC using TM1's Turbo Integrator, a User may see the following message when trying to connect: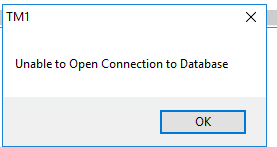 To resolve, check all accounts used have all the required access and permissions set. 
In this case, the account set up in the ODBC connection does not have permissions to read/write to the SQL db. The account was granted permissions in the SQL db, once confirmed, the connection was successfully made via ODBC. 
You can check the 'TM1Server.log' file for additional help and information.