To consolidate a submission in IBM Cognos Controller Web, you need to go to the submission status window. From there, select the ellipsis icon under the Actions column: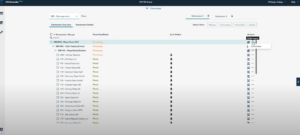 This will open the Consolidation parameter window, which will have parameters pre-populated. In this window, you can change the from and to periods, actuality, group values, and consolidation type if need be.
When you have made any changes, click Next. The Consolidation Options window will open and show the translation method.
Select the submission you can to reconcile, then select any of the check boxes which include:
Force consolidation regardless of status
Include Allocations
Include Advanced Formula Calculations
Include User-defined Business Rules
Select Run consolidation, and then click confirm. The consolidation job is now added to the batch queue, and you will be able to see the batch number.
Click close and the process is complete.