Version 58 of Planning Analytics Workspace (PAW) is available now for Planning Analytics on Cloud, matching the on premise / local update that was released in version 57. It is a big step change for Planning Analytics/TM1and it has the potential to completely change your budgeting and forecasting applications and reporting.
Lindsey O' Grady takes us through the highlights:
Guided planning
PAW now has "applications" and "plans" which help organise planning content into task lists, by organisation structure or any other relevant grouping.
Predictive forecasting
You preview or publish a plan based on a statistical probability against historic data.
New charts including waterfall & more customisations.
It now shares components with Cognos Analytics "Dashboards" making a big leap forward in customising your charts.
Revamped Welcome page
This includes 4 new quick launch tiles – Applications, Reports, Modelling, Administration. This provides a more direct route to the various tasks you need to carry out.
Revamped Administration page
This now gives a much easier view of how many users are set up.
Let's look at each of these areas in more detail.
Guided Planning
IBM Planning Analytics now offers "Applications" and "Plans" which allows you to organize your content for a specific business purpose. This gets over the issue where the steps to completing the plan or perform any task are confusing and mainly based on inherent knowledge. It streamlines the design so that the steps are really clear and all in one place.
Here's an example of a "Plan". It is a step-by-step application with defined deadlines for different audiences.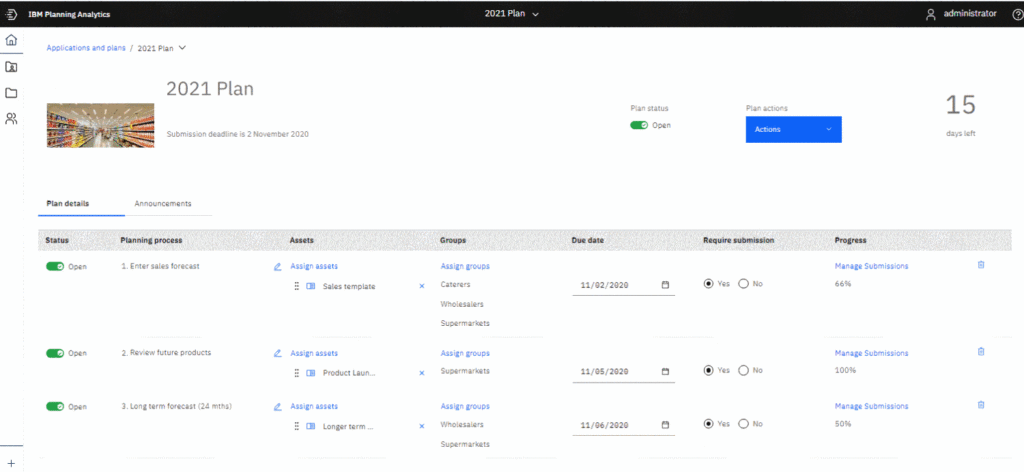 Here's an example of an "Application". It's not step-by-step based. It's more about collating together cube views and books into groupings that makes sense to the task you're trying to complete.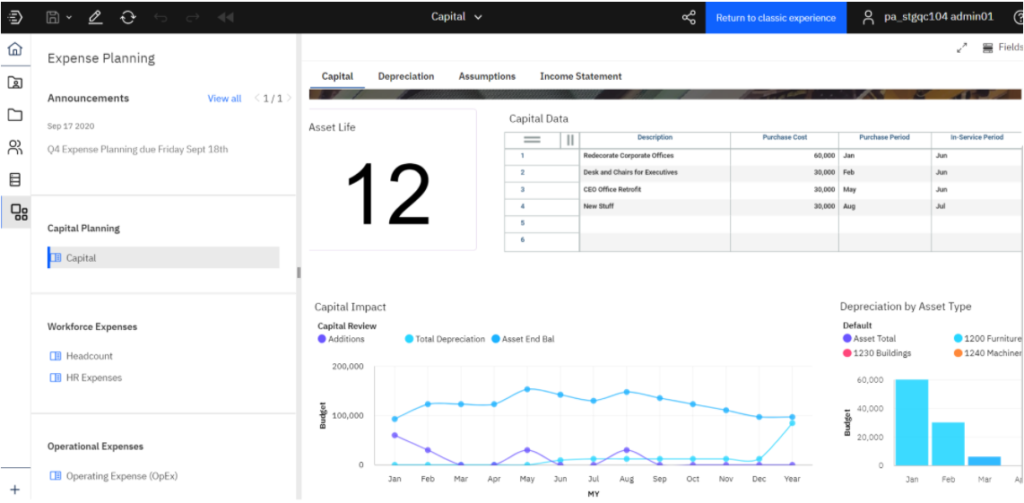 Predictive Forecasting
The predictive forecasting reviews historic values and projects forward where it thinks the forecast will to go to. Although you may not be ready to rely on the computer to do all the thinking for you, it could be a good way to validate some of the plans that each division submit and challenge the anomalies.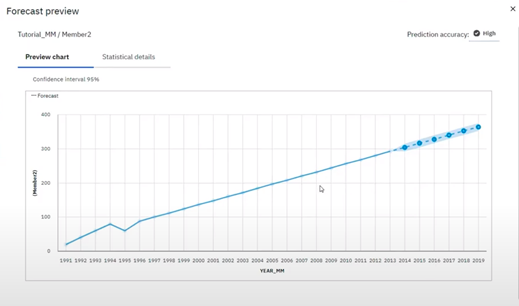 The predictive forecasting can be either previewed (includes a confidence interval) or you can allow it to write the values into the cube.
New Charts & More Customisations
The dashboarding experience has aligned with Cognos Analytics "Dashboard". This means the charts and their customisations are much more extensive. The range of charts now includes Waterfall and Bullet.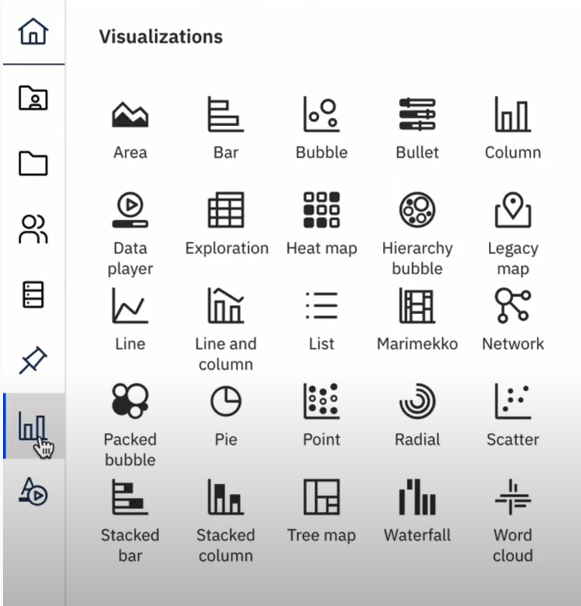 You can customise colour palettes to your exact corporate colours. It can also suggest similar colours to add to the palette based on the one you select.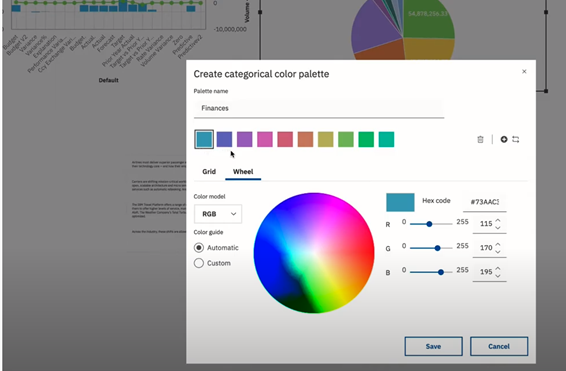 You can author charts by dragging elements into fields (e.g. Y axis, X axis). This makes it much easier to author than just converting a crosstab.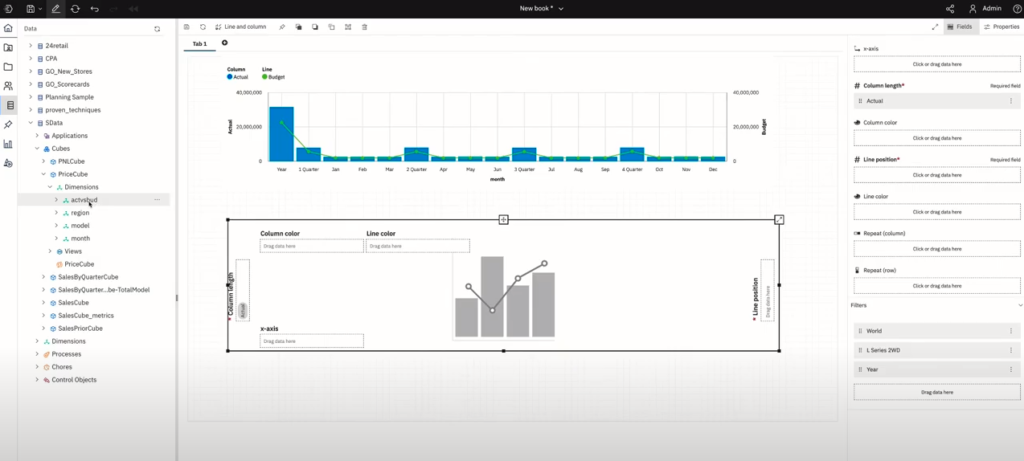 There are now a vast range of properties available for adjusting the way charts look. The properties will vary for different chart types.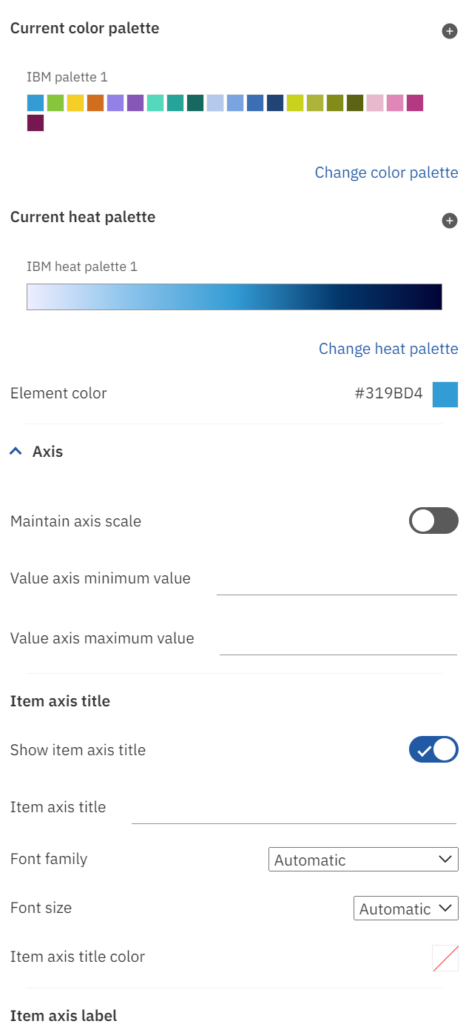 Revamped Welcome Page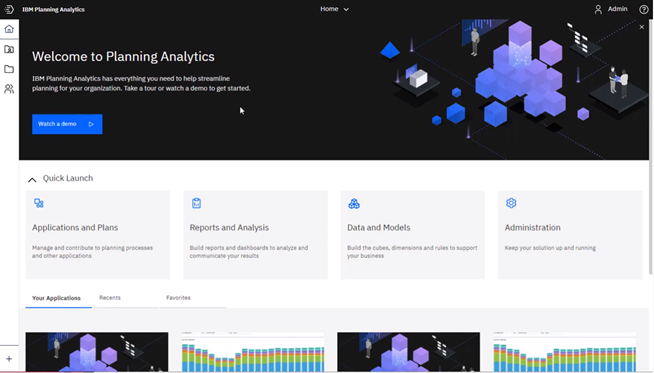 The welcome page has 4 new tiles in a quick launch area:
Applications and Plans – where you contribute/upload/input data in a guided workflow
Reporting and Analysis – where you look at reports and analyse data
Data and Models – where you build or adapt the database design
Administration – where you administer the system such as adding users, or restarting databases.
It makes it much easier to understand what Planning Analytics Workspace does and where to go to perform those tasks.
Another nice new addition is 'Recent' and 'Favourites' which helps you find content you use regularly as opposed to navigating in and out of folders.
Revamped Administration Page
There is a new landing page for administration which includes the number of users set up against each role. Each role correlates to different licences so this could be an easy way to compare your user setup to the licences you've purchased.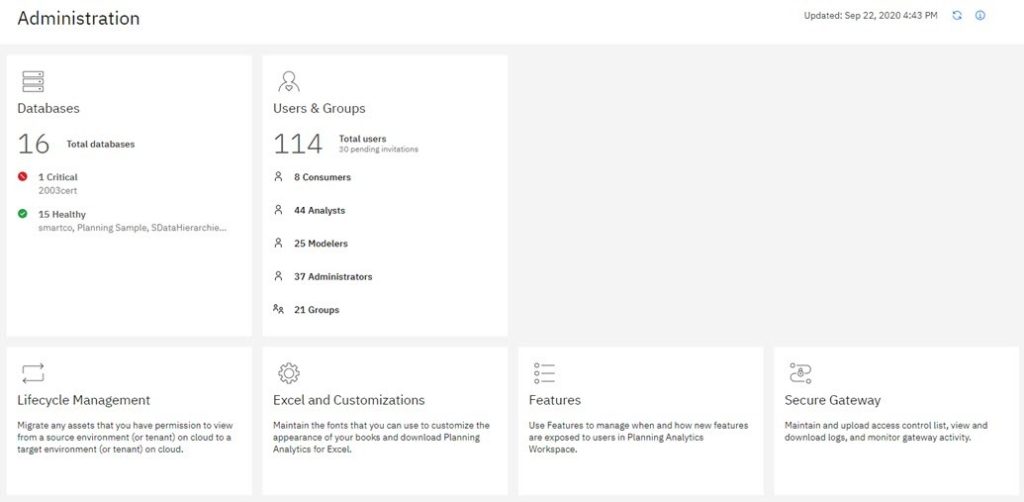 For those with version 58, you can preview the experience as long as that functionality has been turned on by the administrator. After you've previewed it and tested all content works ok you can commit to the update.