IBM Planning Analytics has received many accolades as being best of breed Planning software, from BARC surveys to Gartner. This has been achieved through consistent improvements and innovation, based on a great leadership team and customer feedback.
However, implementation time and cost has meant that Planning Analytics has still been out of reach for many SME's or those without budget. Times have changed though, and we are excited to report that a brand-new licensing option means that is no longer the case!
IBM have just launched Planning Analytics on Demand, a new SaaS offering from IBM. With it, you can access Planning Analytics so you can revolutionize the way that you work.  Read on to find out more!
What is Planning Analytics on Demand?
Planning Analytics on Demand is a new SaaS offering hosted in IBM's Cloud. It costs as little as $45 a month, based on one user and one 2GB database, the licencing is that simple. When you need more you simply buy more, extra users cost $40, and extra databases cost $5.
Planning Analytics on Demand – In Focus
Web-based analysis, planning, reporting and modelling capabilities
Start with one user and one data model; easily add capacity on-demand to support more users and applications
Pre-build templates to start and play around. Also, guided tutorials and training contents is included to allow a quick start
When you first log in you are greeted by the homepage. For those of you familiar, this is built using Planning Analytics Workspace in the web, which is where you do all your modelling, dashboarding and analysis.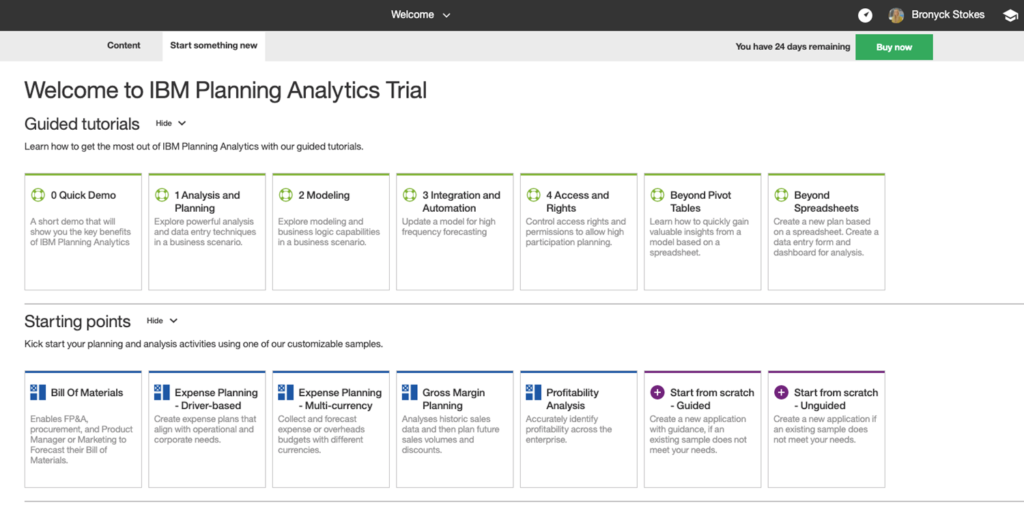 It's really easy to model in, you can have a go for free with the Planning Analytics trial (a link can be found at the end of this blog). Planning Analytics on Demand has prebuilt tutorials, videos and demos to help you build your model, as well as a help section so you can access the community and helpful videos. You can build models and structures with step by step instructions, and importing data is as easy as drag and drop.

You can quickly create dashboards to analyse and share your data – this one took me about 15 minutes. The experience is streamlined so you can easily get going, and not get stuck wondering what to do next.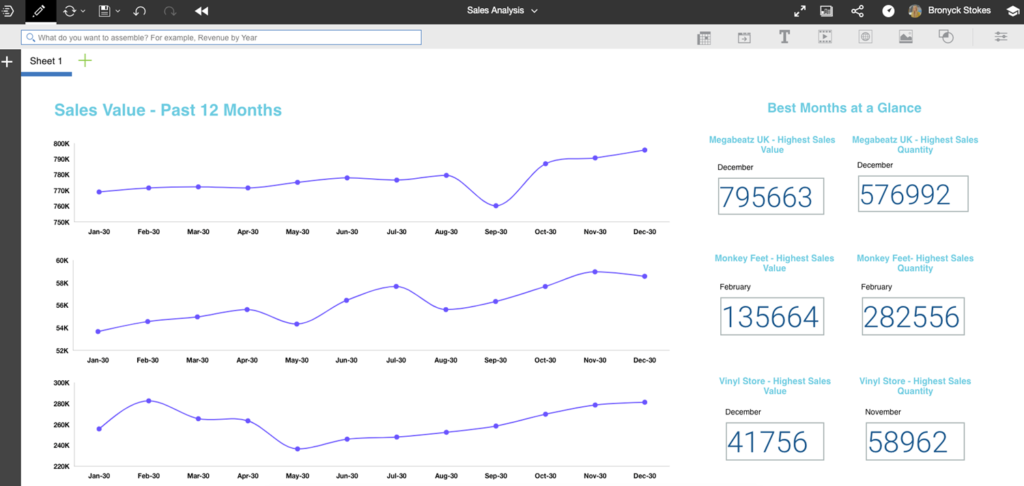 A new feature also allows you to upload your spreadsheets. Planning Analytics will then identify which columns will be your dimensions, so you can create models in no time!
Scalable & Consistent Planning on the Web – How does it work?
Planning Analytics on Demand differs from the traditional offering through use of databases and disk space. Traditionally, you would have a large database (a minimum of 32GB) and store all your models in there.  With Planning Analytics on Demand, you can purchase multiple 2GB databases, and swap space to disk and reallocate to another database if you want to use another model. This is helpful if you want to work on a model or use a model temporarily.  There is no limit to the number of database slots you can subscribe too, you simply buy another when you need another.
This is achieved with Kubernetes in the data tier as databases are containerised. Kubernetes automatically manages containers when you allocate and reallocate space so it's easy to change allocation. On top of that, Containers are isolated, so you will not be affected by other users
In terms of management and administration, there are a few helpful tools at your disposal. The memory usage indicator helps you to understand how an application is performing, and you can easily reallocate space. The back-up process is user driven, so you can manage backups easily, and restore and back up when you like – the image below shows you the administration screen with these options.
This really is a game changer for Planning Analytics, it means so many more companies can benefit from more efficient planning – it's more affordable, doesn't take much time to implement, doesn't take long for users to get going, and still has loads of great features for a fraction of the price – it's a no brainer If you are struggling with unwieldy spreadsheets and inconsistent results.
If you'd like to know more about it, get in touch with us and we will be happy to take you through the benefits of using a more robust and reliable planning solution.
Helpful links
IBM Planning Analytics Overview – access it here
Planning Analytics 30 Day Trial – access it here
BARC Survey – access it here
Gartner Report – access it here
Talk to us about Planning Analytics on Demand