Version 11.1.3 marks a new iteration of Cognos Analytics that is looking to challenge the perception that Cognos Analytics is only for huge enterprises and open the product up to a new audience.  This version has been designed to be more attractive to small and medium-sized businesses and give them better access to IBM's BI tools and tiered pricing options.  IBM have made a range of enhancements to reporting, authoring, dash boarding, data exploration and natural language AI processing.
So, what's new in Cognos Analytics 11.1.3?  Let's look at the best features:
You can now securely consume your on-premises data in Cognos Analytics on Cloud.
IBM Secure Gateway allows you to use IBM Cognos Analytics on Cloud in a multitenant environment to consume your on-premises data securely.
The ability to share your content by email
You can now quickly share a reports, dashboards and stories via email directly from within Cognos, and annotate the visuals before you share them with colleagues.
Enhanced Assistant capabilities
This feature has been enhanced to include loads of new natural language capabilities
The assistant offers type-ahead support to improve usability and understands modifiers like aggregations and filters.You can ask the assistant to 'create dashboard' and it will generate a complete dashboard based on what it finds interesting in your data. A clever feature that gives you a starting point when you don't know anything about your data. The dashboard can then be edited and adjusted ready to share with colleagues.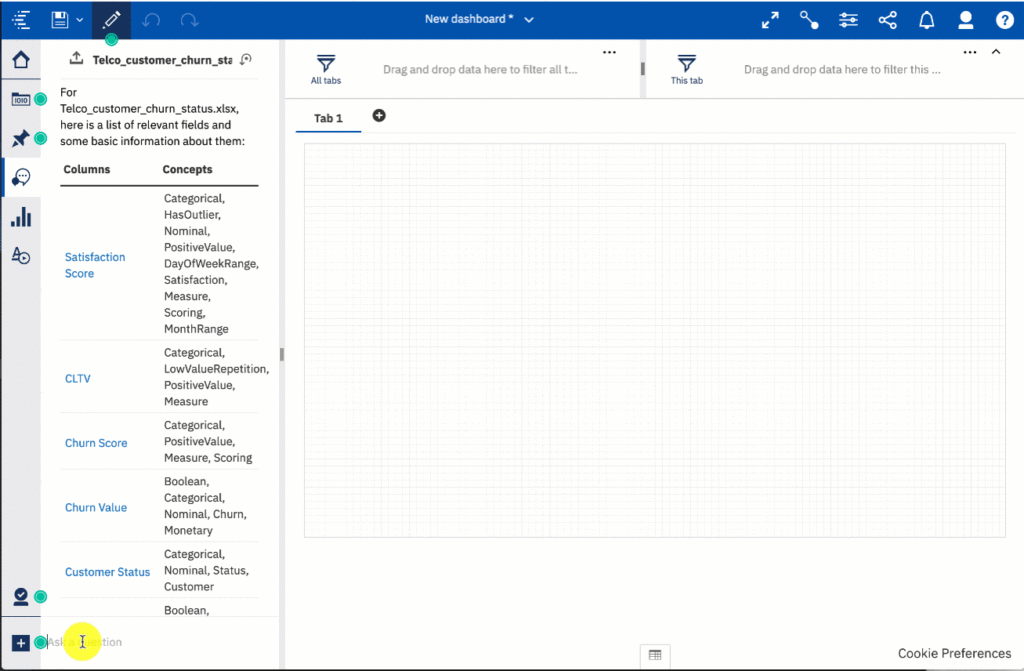 Turn your exploration visualisations into a story
Use can use the new Save as a story feature to make a copy of your exploration visualisations and convert it into a story. Each exploration card is then converted to a scene in your new story. Exploration capability came into the product in the previous release and continues to impress customers with its ability to help find hidden patterns and relationships in their data.
Key drivers available for categorical targets
Key drivers for both continuous and categorical targets are available in the driver analysis and the spiral visualization in dashboards and explorations.
Target for bar and column visualizations
You can now use the Target data slot in bar and column visualizations in reports, dashboards, and explorations to show measures that need to be compared against a target value.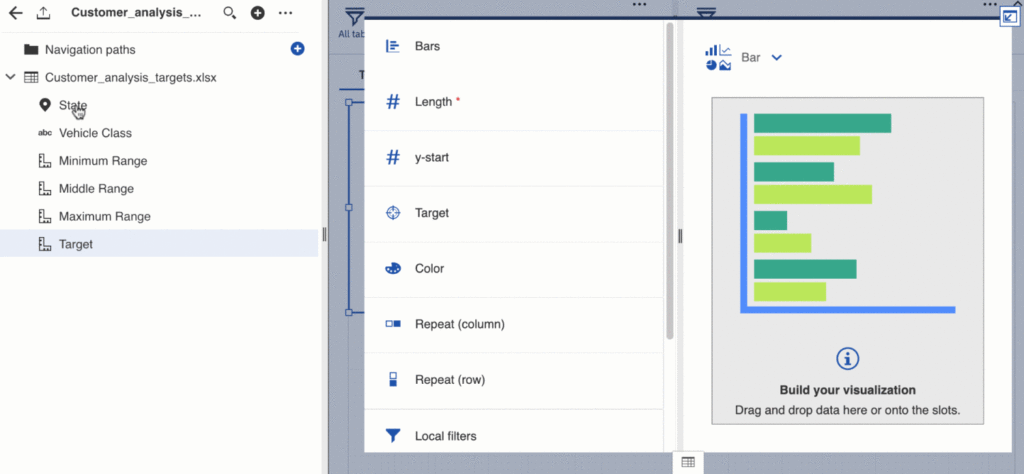 Improved experience for comparing two visualisations
A new Compare toolbar button in an exploration makes it easier to duplicate a visualisation and then automatically compare the data between the two.
Modeling enhancements
The new modeling features include enhancements in numeric data groups, using Excel data formats as default formats in data modules, zoom controls in the relationships diagram, and data module validation improvements.
Multi-tenant cloud solution
IBM has also launched a new Cognos Analytics multi-tenant cloud solution, a low-cost cloud service, which enables customers to access Cognos Analytics in the IBM cloud starting at just £11.99 per user per month with the ability to trial the service for up to 5 users for 30 days.  This option enables users to start building powerful dashboards, tell persuasive data driven stories against cloud and on-premise data sources easily without the need for complex IT infrastructures.
If you think that Cognos Analytics could benefit your organisation, then now is the perfect time to start exploring what it can do.  If you would like to know more then contact one of our friendly consultants for an informal chat.