IBM Cognos Controller 11.0.1 incorporates the integration of IBMid authentication and various other product fixes and enhancements.
Mark Whitney, one of our trusted Product Specialists has written his review on the latest version of IBM Controller version, 11.0.1.
First impressions always have an impact, and I like the look and feel of the latest version of IBM Controller, version 11.0.1.  The product is fundamentally the same; you still get Controller Classic, you can still run reports through the Excel add-in, and Controller Web comes with some new tools.  However, the general user experience for customers using IBM's Cloud range is tighter – the key to this being the removal of Citrix, something many of our customers are pleased about.  
The first thing to note with this change is the use of IBMid.  If you upgrade Controller, the application must now be registered to an IBMid, which just requires you to register your email address as your username and create a password.  Many customers already use this method of authentication.   
To get started, a single IBMid account needs to be nominated and assigned to the Default ADM user account.  This facilitates the user to connect to the Controller Web homepage, from which they can download the new Classic Client (which includes the Excel Add-In), or they can simply download the Excel Add-In client alone.  The latter option is most likely to appeal to report only consumers.   

Installing the application is not too difficult but does require reference to the URL provided for the Controller Web link.  You might also need to investigate installation privileges, particularly as no consistency applies for the customer environments into which these clients are being installed.  We typically advise testing the client installation on a handful of users. 
When the installation is complete, you should be able to open and run the Controller applications direct from your PC start menu, or through a web browser. When logging onto the Controller Classic client, this process can currently hang for up to a minute, but there are no other steps or applications involved.   
This means no Citrix! (yes, I do like saying that). 
There is no need for multiple usernames or passwords, usage of Microsoft Excel that is being hosted externally to your machine and no requirement to map and access your file drives through Citrix.  You will however need to ensure that the version of MS Office installed to your PC is compatible with Controller 11.0.1, which is Excel 2010 onwards.   
You will also be able to check a box for the application to remember you for future repeat logins.  It is just more user friendly. 
To add more users, you no longer use the AD Manager, as Citrix has now been removed. 
The management of user security with Controller 11.0.1 on SaaS has a feel of original native security set up, a reference I'm using because of the simple navigation.  You are presented with a basic list of users and user groups within the Controller Classic client (from your upsized Controller asset), but now with no availability for CAMID connection, as we have become familiar with from SSO set up on prior product releases.   
Instead, you now need to ensure each user is assigned a unique user ID, with ADM being a simple example.  This same user ID then needs to be matched to an existing IBMID, as separately administered within the Controller Web application.  This administration is accessed from a shortcut presented on the Controller Web homepage, with read-only access granted to all, but write access only currently applying to the ADM user.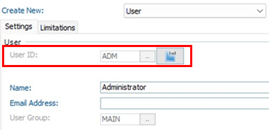 The removal of Citrix also means that a new solution is available for the FAP client.  This new client is used for data feed from Controller into Planning Analytics and is used for defining the source and target for data movement, plus the content being moved.  It is therefore a crucial element of the Controller architecture, particularly for customers who are integrated between Controller and Planning Analytics.   
The new location for this FAP client is the Administration link accessed via the Controller Web homepage.  User access to this FAP client is determined by access rights set within the Controller Classic application, from where a new Controller Web sub menu is now available.  Users are either granted normal access rights, or find this function removed from them by their rights being marked as 'Not Available.'  The look and feel of the FAP client should be familiar, albeit presented in the IBM Carbon brand.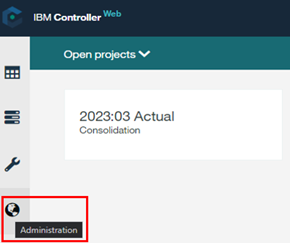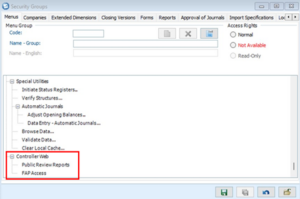 The user will be presented with tabs marked: 
Service Settings

 

Sources

 

Datamarts

Logs
If you are upgrading to 11.0.1, these tabs will carry over previously saved content.  The only real change is the addition of the Database Config tab.  This is where users land and requires users to input the correct alias name for the database being published, which in turn initiates connection and enables the standard FAP tabs to be accessible. I would also draw attention to the new availability of import specifications for company journals.  This follows the same format setup presented for data import at the REPO/BASE level, as accessed from the Populate tab. IBM has invested time and improvement against company journal treatment on Controller Web in recent times. 
This means that the user experience for searching and navigating within journals on Controller Web is far better than Controller Classic, particularly benefiting the local finance user pool.  Whereas, for the group finance and admin users, the means to easily import mass journals should now be a big win.  The previous restriction to a single and standard journal template belonging to Controller Classic is now substituted, which should mean time and cost spent managing complex Excel files and/or data coding is now defunct.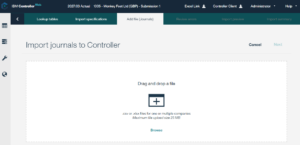 I would love to hear of any comments or questions you may have about this – I am excited for this latest version and what else is to come! 
Lastly, if you would like to review IBM documentation on the new features now released, please refer to:  
Controller 11.0.0 >> https://www.ibm.com/docs/en/cognos-controller/11.0.1?topic=releases-whats-new-in-1100 
Controller 11.0.1 >> https://www.ibm.com/docs/en/cognos-controller/11.0.1?topic=controller-whats-new-in-1101 
Let us know your thoughts here.
Mark Whitney, Product Specialist –  26th September, 2023